Woodhouse Restaurant (Former King's Food Host)
Bismarckans are very set in their ways, and often extremely loyal to their stores and restaurants. Bismarck's city slogan could be "The City Who Never Forgets". I swear here in Bismarck we have more survivors of former national chains than anywhere else.
Take The Woodhouse Restaurant, the only known survivor of the multinational chain King's Food Host, which went out of business in the last 1970s. At its height, King's had restaurants in 17 states and 1 Canadian Province, but today Bismarck retains the only survivor. Scotty's Drive-In was also once a regional chain. Although no longer a chain, Bismarck contains one of only four remaining Scotty's restaurants.
Let's ponder for a minute what would happen if one of Bismarck's long-time restaurants were to close, say… Big Boy. Not that that's likely to ever happen considering its popularity, but what would Bismarckans do without their Hot N Tots and Pizza Burger Flying Styles? There would likely be a widespread panic felt not only in the city, but across the country. Bismarckans have already proven that they couldn't survive without their Cheese Frenchees or Rebel Burgers by keeping The Woodhouse and Scotty's alive all these decades later.
If you know anyone who grew up in Bismarck, but no longer lives here, ask them sometime what they look forward to most when returning (other than family and friends, of course) and they often say… "Big Boy" or "Scotty's" or maybe "Space Aliens". Former Bismarckans can't even escape the large chain restaurants like Hardees – who now have only two locations in all of Minneapolis-Saint Paul – the metro where most ex-Bismarckans live.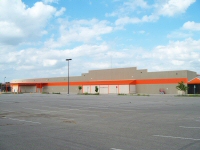 Bismarckans tend to favor the same retail stores too, local or national. Home Depot's closure, just three years after opening, is a good example – as Bismarckans continued to shop at nearby Menards. For years, people had been wanting another choice in the home improvement field, but when Home Depot finally arrived in 2005, the Menards parking lot remained packed full. Bismarck's first modern-day discount store, Kmart, opened in 1971, and continued to thrive even after the arrival of White Mart in 1979, Target in 1980, and Wal-Mart in 1990. In fact, the Bismarck Kmart was ranked in the top 10% of the company for many years, despite major competition. Although Wal-Mart's arrival on State Street four years ago took a dip in Kmart's business, the store continues to survive due in part to its loyal fanbase.
Local retailer A.W. Lucas continued to thrive amidst increasing national competition, again due in part to its intensely loyal customers. Even today, thirty years after its closure, those who remember Lucas's (as most of them call it) talk about how much they miss it. People still have not fully accepted the closure of Herbergers at Gateway Mall either, despite that the Kirkwood location is much larger. I still hear people saying how much they miss the Gateway Herbergers.
Considering how loyal Bismarckans are to their long-time stores and restaurants, it would be quite a dampener if one were to ever close. Prescriptions for anti-anxiety drugs would probably have a spike if people could no longer get their Cheese Frenchees or Hot N Tots.